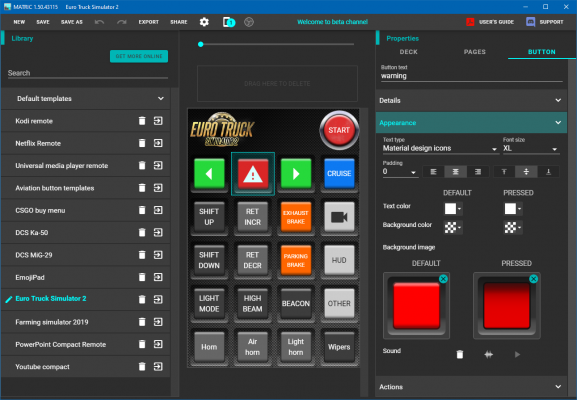 I know there weren't many updates in a while, but rest assured, we were hard at work. So what were we up to you might ask?
MATRIC has grown in features signifficantly since it's initial release and we found adding new stuff gets harder and harder to do so we decided to conduct a major effort to make MATRIC easier to develop and maintain.
1.50 beta is available in the download section
Here is the change log:
User interface enhancements


We

rewrote the UI

completely from the scratch

throwing away thousands of lines of code, but it was worth it. Do not worry - it is very similar to current one only better and with new useful features added. To give you a few examples:

You can make a copy of a page with one click (I know many of you asked for that feature)
You can copy a page from one deck to another (hooray!)
Settings dialog removes the need for messing around with config file
Asynchronous operations - deck export and publish are now interactive, you'll see exactly what is going on. No more UI freeze while deck is being exported/published.

Beta Channel


Now you can choose (in settings) to recieve beta version update notifications in the app itself so if you want to be on the leading edge of MATRIC development you don't have to check MATRIC web or Discord to see what is available.

Auto deck switcher


It switches decks on your devices depending on which application is in the foreground, you don't have to change decks yourself as you switch from one app to another - MATRIC can now do that automatically. You can have your custom context sensitive touch interface similar to Apple's Touch Bar. We believe it will be a very powerful productivity booster. How cool is that?
Full support for Material design icons
Matric now supports both the Google material icons and Material design icons. To make your button display an icon, type the icon name in the text field. For a full list of supported icons go to:
https://materialdesignicons.com/ (prefix the icon name with "mdi-") and https://material.io/resources/icons/

Play audio on PC action


You guessed it - plays an audio file on PC, you choose an MP3 or some other compatible audio file and MATRIC will play it on PC. Now you can be a DJ.

Open web page action


While you could make MATRIC open a browser web page, you needed to fiddle with Run App action. Now it is much simpler to do with Open web page. Just enter an address and MATRIC will open it in browser.

Posted
3 years ago
by
Tomislav